Do you want heart disease?
Calcium supplements for heart disease?  Well, if you want to increase your risk of getting heart disease, you can take Calcium (Ca) supplements!  Perhaps you would like to contract type 2 diabetes or be more at risk of having a stroke.  How about kidney stones, do you fancy them.  Take it from me, they are excruciatingly painful!
Am I being flippant?
You may think I'm being frivolous here, but I want you to take heed because many of us are taking extra Ca by way of supplements, despite getting plenty of it through our diet.  For those of you who eat a 'normal' diet which includes dairy, yoghurt, milk products, cheese, butter etc., please read this post and take action for your own health and the health of your loved ones.
Take Action!
Take action now for your future well-being and a better chance of living a long and healthy life. Too much Calcium (Ca) by way of supplementation can increase the risk of you succumbing to heart disease, especially if you're a woman.  It has also been linked to other serious diseases.  This is a fact that has been proven by research, but this is only half the story!
Is Calcium a Villain?
No, definitely not.  We must get away from blaming Ca for the incidence of heart disease and other serious conditions.  Researchers cannot simply blame Ca supplementation for their findings, the problem is of an imbalance between Ca and Magnesium (Mg).
Why is this not known?
The simple fact is that most doctors just don't seem to have taken this fact on board and used it to the best advantage of their patients.  It also seems to have eluded most researchers to such an extent that I actually did a search for the words Calcium and Magnesium in a significant peer reviewed paper called 'Calcium supplements and cardiovascular risk: 5 years on'(1).
Mg not mentioned once!
There were 151 finds for the word Calcium.  Guess what, there was NOT ONE SINGLE ENTRY for Magnesium within this peer reviewed paper.  The only incidence that came up for the search was just one within a reference title at the bottom.
Here is this paper, researching the risks of heart disease because of excess Ca and there's not a single mention whatsoever about the incredible importance of the balance between Ca and Mg and how an imbalance is the problem rather than just Ca itself.
Magnesium and enzymes
This I find unbelievable and extremely frustrating.  The medical profession should know that Mg is necessary for hundreds of enzymatic processes.  According to Dr Carolyn Dean's book 'The Magnesium Miracle' she writes:
Magnesium is a required cofactor for the activity of hundreds of enzymes.  I quoted the standard number of 325 enzymes when I wrote the first edition of The Magnesium Miracle. However, the number 325 is far too low.  Dr Rosenoff says "While it was estimated in 1968 that magnesium was a required cofactor for over 300 enzyme systems, that number is now more reliably estimated at 700-800" (2)
No wonder there is such a range of conditions and diseases that will be a direct result of a Mg deficiency.
Do you have lactose intolerance?
For those of you who may have an allergy or if you do not eat dairy products or foods rich in Ca, then you may have to take different action.  Supplementation may be necessary if your dietary intake of Ca is low.  All you have to do is make sure your intake of Ca and Mg ratio is 1:1.  That's it, simple.  It's not rocket science, just a case of balance.
Fortification of Calcium
On the whole, most people get plenty of Ca from their diet, especially as the food manufacturers have taken it upon themselves to fortify any food they can with extra Ca. They then advertise to the poor unsuspecting and trusting public who buy their food because it has extra Ca in it.  After all, the food companies' advertisements tell you it's good for you, so it must be true!  This means that the majority of us are already saturated with Ca.
What about Magnesium?
So how many of us have enough Mg?  It is estimated that a whopping 80% of Americans are Mg deficient.  There is no reason to suppose that this figure will be any different for the population of the world who eat a 'western' diet and use fertilisers and pesticides to deplete the land of it's natural minerals and nutrients.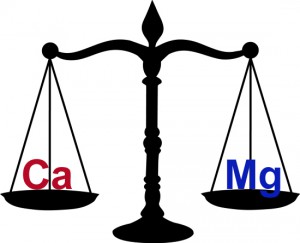 The correlation between these two vital minerals, Ca and Mg, is so important that I wanted you to understand the serious significance of an imbalance between them.  The imbalance is invariably too much Ca and not enough Mg.  It is nearly always Ca that is in abundance in comparison to very little Mg. Ca without Mg can have devastating affects on your health.
The 'in vogue' mineral
Our Ca rich diets provide us with a plentiful supply of this necessary mineral.  The problem is, Ca has become the 'in vogue' supplement to take.  We're told you need Ca supplements for your bones and teeth, for your arthritis, for your osteoporosis.  Children must have extra Ca to make sure they grow up big and strong.  Ca here, Ca there, Ca everywhere.
A Mg deficiency by default!
Because of this, Ca supplements are being taken like candy, producing a dangerous ratio of too much Ca to Mg in our diet today.  This imbalance, by default, causes a Mg deficiency.  It is also making bones and teeth weaker, not stronger and arthritis worse, not better, not to mention osteoporosis!  What about heart health?
Too much Calcium will cause calcification
There is no doubt that Mg deficiency is an epidemic in these modern times and it is this deficiency which makes Ca a problem.  If Ca and Mg are in the body in equal proportions then Ca will do what it's supposed to do.  If Mg is not in sufficient quantities to control Ca then problems and symptoms of serious diseases can occur and Ca will start migrating and calcifying into different parts of the body.  Our most important organ is at serious risk with an excess of Ca.  Note this coronary calcium scan (CCS)
Mg is a gatekeeper to our cells
Mg is Ca's gatekeeper, controlling where and how much it lets into our cells.  It also keeps Ca dissolved in the blood and inhibits its calcification.  This keeps Ca from creating kidney stones.  It also inhibits calcification within our arteries reducing the incidence of atherosclerosis and other plaque buildup.  It stops calcification of the bladder which reduces its capacity to store urine, hence more trips to the loo.  Calcification in breast tissue can also be a problem and misdiagnosed as cancer.  Calcification can be anywhere which includes our joints and muscles.  By far the worst problem though, is heart disease and its associated conditions like high blood pressure, angina, strokes, atherosclerosis etc..
What is the most important function of Mg?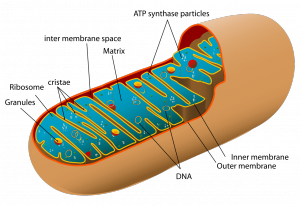 Probably the most important function of Mg is that it is needed in 6 of the 8 stages (the Krebs cycle) of producing our energy storage molecule adenosine triphosphate (ATP). This is our source of energy created in the mitochondria, which reside in each of our 37.2 trillion cells.  For ATP to become active, it must be bound to a Mg ion (Mg-ATP).  Too little Mg can cause an excess of Ca within the mitochondria and this can inhibit ATP synthesis.
Without Mg, Ca floods the cell
There are numerous mitochondria in each cell, the most being produced in muscle cells which need an abundance of energy to work efficiently. Without the intervention of sufficient Mg, mitochrondrial calcification will eventually cause cells to die.
Without Mg there is no energy, without energy there's no movement, without movement there's no life.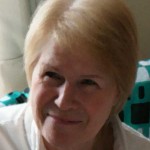 Please leave a comment if you have any experiences or thoughts about this post.  I will answer any questions you have as best I can.  Thank you for reading.
(1) Bolland MJ et al., "Calcium supplements and cardiovascular risk: 5 years on." Ther Adv Drug Saf vol.4, no. 5, pp. 199-210, 2013.(2) Andrea Rosenoff,  www.prohealth.com/library/print.cfm?libid=14606
Spread the word!
Summary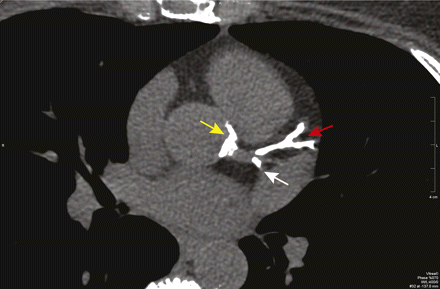 Article Name
Calcium Supplements for Heart Disease?
Description
Do you want heart disease? Well, if you want to increase your risk of getting heart problems, you can take calcium supplements for heart disease! Perhaps you would like to contract type 2 diabetes or be more at risk of having a stroke.  How about kidney stones, do you fancy them.
Author
Publisher Name
https://magnesiumandhealth.com
Publisher Logo