Causes of Muscle Spasms are a mystery to many people but there is an answer to most muscle spasms or cramping problems. But what sort of spasms are we talking about? Most people think of muscle spasms in the calves or thighs, causing cramp-like symptoms. But let's think where else muscle spasms can occur in the body. But first watch this short video about the cause of blood pressure.
Legs, specifically the calf and thigh muscles
Stomach muscles
Heart muscle
Bladder muscle
Smooth muscles of airways
Bowels and digestive system muscles
Face and jaw muscles
Temporal muscles
Back muscles
Blood vessel smooth muscles
Esophageal muscles
Fingers and toe muscles
What about…orgasms!
Muscle spasms everywhere!
I've picked out 13 areas of the body where muscle spasms can occur. Perhaps you hadn't thought of some of these body parts, especially the last one, but they can all point to one single deficiency. They can also cause a lot of pain and discomfort which you do not have to suffer. But even if you can't feel them, such as spasms in the blood vessels causing blood pressure, they always put stress on the body. Some spasms are more dangerous than others, a spasm of the heart for instance!
Legs, specifically the calf and thigh muscles
If you can bear to look at your calf muscle when it is in spasm, you will notice it is very hard with the muscle very defined and in a cramped state. The reason? The muscle has tightened but in unable to relax. This indicates a lack of Mg, the relaxation mineral. With a deficiency of Mg, muscle spasms are common and the effect of a spasm can be easily seen and felt! The Ca:Mg ratio will be the likely cause of the cramps. Ca contracts muscles, Mg relaxes muscles and both minerals need to be in equilibrium to do their respective tasks efficiently.
Stomach muscles
There are an abundance of muscles in the stomach so there could be a plethora of reasons stomach muscles are painful. As for stomach cramp, it could be to do with digestion. IBS is a prime candidate for the discomfort. Gastroesophageal reflux disease (GERD) is another possibility. GERD is not a disease, it is a lifestyle condition. The pharmaceutical industry has hyped it up so they can sell their 'GERD' drugs. Follow the money!
A simple lack of Mg?
What is causing the pain could be the stomach's inability to relax muscles in the area. A lack of Mg will do just that. Again, as with leg cramps, stomach cramps could easily be simply a lack of Mg compared with Ca. Excess Ca contracts the muscles but there needs to be enough Mg to relax them.
Our heart muscle is the most important organ of our bodies. Imagine what happens if the heart muscle contracts but cannot release into relaxation. With low levels of Mg this is what can occur. The famous actress Carrie Fisher possibly died of a simple Mg deficiency. What a crying shame if this was the root cause of her death. A simple mineral would have protected her cardiovascular system and she would probably still be alive and well. This is the truth about a multitude of deaths from heart disease.
Biggest cause of death in the US
According to statistics, the most common cause of death in the USA is from unexpected, sudden and unattended heart attacks. It is also estimated that 80% of the population of the US is Mg deficient. Could this be related do you think, or is it just a coincidence?
The dangers of Mg deficiency
This is what Dr Thomas Edward Levy, M.D., J.D says about Mg deficiency: Dr Levy is a board certified cardiologist.
"Probably the single most important property of magnesium in the body is its ability to act as a natural biological antagonist to calcium. As most adults have excess calcium throughout their bodies, it is this reciprocal relationship between magnesium and calcium that makes most people in need of regular magnesium supplementation.
In fact, the more you have of one, the less you have of the other. When calcium levels are high in the cells and the extracellular fluids, as they are in most adults, magnesium levels are corresponding low. And, because of this unique relationship, taking regular sizeable doses of supplemental magnesium works to mobilize and excrete calcium – which is one of the healthiest effects that can result to the typical body overloaded with calcium."
How about orgasms?
If you are Mg deficient, it is likely you could have difficulty attaining an orgasm or perhaps you're teetering on the edge but don't quite make it, very frustrating. Those taking a magnesium supplement are happy to report that their sex life often improves with quicker and more intense orgasms. What's more those with ED may find Mg deficiency is the cause.
Why should this be?
Mg will improve circulation and has a great calming affect. It actually enhances muscle relaxation which allows the contraction and relaxion pulses of an orgasm. With Mg deficiency, contraction may happen but the relaxation part of the process will be compromised making orgasms more difficult and less intense. In some women Mg repletion can even promote their first orgasm, with others saying they were now capable of intense multiple orgasms!
Don't walk, run!
What a good excuse to run down to your supplier and buy a good quality Mg supplement. If you won't take it for your heart health, insomnia, muscle cramps,  arrhythmias, angina, headaches and all the other benefits, how about improving your sex life!
Two important minerals
Two important minerals have much to do with muscle spasms, although other deficiencies and imbalances of nutrients can exacerbate the condition. But if these two minerals are in equilibrium, muscle spasms will be diminished or halted altogether. These minerals are magnesium (Mg) and calcium (Ca). They are an antogonistic couple with each having an affect on the other. Excess Ca compared to Mg will have a negative affect on the body. If Ca is at a much higher level than Mg, then the body will exhibit a Mg deficiency by default along with its unpleasant side effects.
"Fight Flight" mode
If the body is under stress, it will cope with that stress by going into the "fight flight" mode. Copious amounts of Mg are used up when the body is in this state. Stress and trauma of any type such as mental, physical, environmental and emotional will massively deplete Mg levels. Consequently, those under continual stress will deplete Mg quickly. Unless, of course, they have adequate Mg levels in relation to Ca levels. If there is excess Ca in relation to Mg, then Ca will be able to flood the cells. One of Mg's many tasks is to allow Ca into the cell when necessary and close Ca's pathway to the cell when it is not needed. If this process is compromised and Ca stays in the cell, it will cause cell death. The image shows Ca crystals which are known to form within the mitochondria as a cell dies.
Our modern diet causes problems
However, this equal ratio is very difficult to achieve particularly as Mg in our food supply is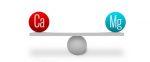 much depleted to start with. This is due to modern agricultural practices compromising our soil with copious amounts of herbicides, pesticides, fungicides and inappropiate fertilizers. Ca, however, is abundant in our diet, even without diary.
We are awash with Ca
It is found in a plethora of foods and is also often fortified in common foodstuffs by the food producers. Food manufacturers will say that fortification of Ca is a good way of upping our Ca levels. Unfortunately, most of us have too much Ca in our body already, to the detriment of our health. It beggars belief that food manufacturers can be so ignorant about the products they produce.
Just chalk!
The Ca used to fortify foods and in Ca supplements is often of inferior quality ie. calcium carbonate (CaCO3), the same as the white cliffs of Dover! Chalk is not easily bio-available. If Ca cannot get to where it needs to be ie. into the bones with a small amount dissolved in our blood, then problems will occur. We will slowly lay down Ca deposits in our arteries, in our kidneys, gall bladders, brain and worse, our heart and cardiovascular system. This is apart from the arteries of our extremities such as arms and legs. Periferal Artery Disease (PAD) comes to mind.
That is why so many of us have so many problems to do with calcification such as:
Bladder stones
Testes calcifications
Breast calcifications
Kidney stones
Gall stones
Angina
Heart valve calcifications including mitral valve prolapse
Heel spurs
Calcification of the rotator cuffs
Periferal Artery Disease
Atherosclerosis – According to the National Heart, Lung, and Blood Institute (NHLBI): "Atherosclerosis is a disease in which plaque builds up inside your arteries. Arteries are blood vessels that carry oxygen-rich blood to your heart and other parts of your body. Plaque is made up of fat, cholesterol,

calcium

, and other substances found in the blood."
Don't take Ca supplements
The above list are common problems with excess Ca. As you can see, too much Ca can turn into a threat to your health. In other words, Ca is toxic when taken to excess. Unfortunately many people, particularly the older generation are encouraged to supplement with Ca. This is hardly ever necessary, even if you don't eat much diary. Most vegetables have Ca in them, as do nuts and seeds.
Dietary Ca is best
In fact, those foods that contain Mg will invariably contain Ca too. For instance, there is more Ca in Broccoli than there is Mg. Also Collard greens are high in Ca but hasn't as much Mg in them. Almonds have an equal amount of Ca as Mg in them. Perhaps mother nature's way of keeping these 2 minerals on an even keel!
Dr Carolyn Dean's book The Magnesium Miracle is well worth a read if you want to know the ins and outs of Mg deficiency and the untold misery and suffering it can cause. All because of a simple cheap mineral.
Dr Dean has a few other muscle areas that can go into spasm: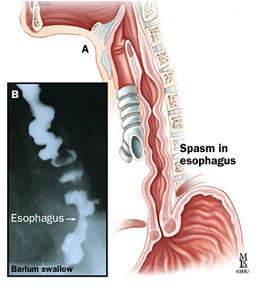 "Esophageal spasms can feel like sudden, severe chest pain that lasts from a few minutes to hours. Esophageal spasms typically occur only occasionally and might not need treatment. But sometimes the spasms are frequent and can prevent food and liquids from traveling through the esophagus.
A coronary artery spasm is a sudden tightening of the muscles within the arteries of your heart. When this occurs, your arteries narrow and prevent blood from flowing to your heart. Coronary artery spasms are brief and temporary. However, they can potentially lead to further heart complications, such as a heart attack.
Dr. Dean cites a study of young, healthy, well-conditioned men, noting that "strenuous effort was reported to give rise to persistent magnesium deficiency and a related long-term increase in cholesterol, triglycerides, and blood sugar." The study results suggest "the sudden death of athletes and other intensely training individuals during extreme exertion is triggered by the detrimental effects of persistent magnesium deficiency on the cardiovascular system." (The Magnesium Miracle, Kindle page 2133)
It makes me so mad!
It makes me so mad and at the same time saddens me as to the ignorance of the majority of MDs. They seem to have no clue about the benefits of Mg. Or perhaps it's the fault of the pharmaceuticals, who discourage treatment with natural nutrients, preferring to use one of their profitable drugs instead. If the population had sufficient Mg levels, hospitals would be half empty! But that's not what the pharmaceuticals want is it!  Follow the money!!
Spread the word!
Summary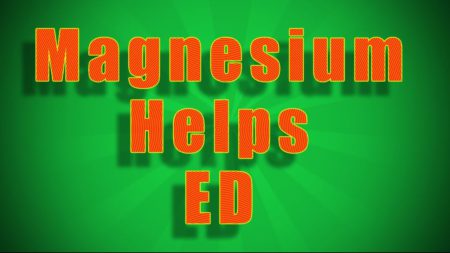 Article Name
Causes of Muscle Spasms - and treatment
Description
Causes of Muscle Spasms are a mystery to many people but there is an answer to most muscle spasms or cramping problems, including heart attack!
Author
Publisher Name
https://magnesiumandhealth.com
Publisher Logo