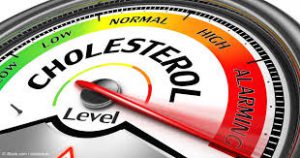 Are you worried about your cholesterol levels?  What is high cholesterol?  Have you had to change your diet because you've been advised to lower your high cholesterol?
Have you been prescribed a statin drug to lower your cholesterol? Have you been taking one of these drugs for a while now?  Do you know what this drug is and how it works in your body?  Do you have regular tests to check your liver function?  Do you suffer with any muscle aches or pains?  Have you actually got heart disease?  If the answer to the last question is no, you may want to stop taking statins.
Dyslipidemia
Research has discovered that there are different kinds of cholesterol which the public has now catagorized into 'good' cholesterol and 'bad' cholesterol.  Abnormally low or high fatty complexes in the blood is generally referred to as 'dyslipidemia'.  It is more to do with the balance of these different lipids rather than just high cholesterol.  To put it simply, dyslipidemia is having too little HDL (high density lipoproteins) or good cholesterol against having too high levels of LDL (low density lipoproteins), VLDL (very low density lipoproteins) and TG (triglycerides) or bad cholesterol.
A threat for decades
The threat of high cholesterol has troubled us for decades.  We've been told time and time again to reduce our fat intake and stop eating certain foods, such as eggs and butter, or else!  The thing is, all these cholesterols which I mentioned above, are naturally inside the body. The unwanted type is cholesterol that is oxidized.  It is not normal for cholesterol to be bound with oxygen.  This oxidization comes from eating unhealthy processed foods.  Pesticides, fluoride and other pollutants will also cause oxidation of cholesterol in the body.
How cholesterol increases
Cholesterol increases insidiously.  You can't feel it and there are no visible signs, but you will increase oxidized cholesterol with a junk diet, smoking, too much alcohol, no exercise and worst of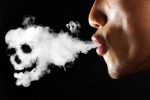 all stress.  Now stress is something we all have to suffer in this modern day but we do have control over what we put into our bodies and how much exercise we take.  As for the stress, we can control that too, to a certain extent.
When did it all start?
So when did this preoccupation with cholesterol all start.  Well supposedly, way back in the early 20th century when two Russian researchers experimented with cholesterol.  They gave it to a batch of rabbits to see what would happen.  The rabbits soon became sick with yellow sticky grot that clogged up their arteries.  This was the beginning of a misleading and deceptive saga, all because there was one important fact that was ignored.
What was missed?
Because of this omission, it was assumed that cholesterol was the cause of coronary artery disease.  But the cholesterol they fed the rabbits was in fact pure crystalline cholesterol that was dissolved in vegetable oil.  This crystalline cholesterol is a substance that the body cannot use.  It is now known as oxycholesterol and is not found in fresh food or in a healthy human body.
Cholesterol is not the problem.
Prof. Fred A Kummerow, emeritus professor of comparative biosciences at the University of Illinois (USA).  Kummerow has spent over six decades studying lipid biochemistry trying to explain the primary causes of heart disease. He says: "The research conducted in my laboratory, demonstrated that cholesterol is not a problem unless it is oxidized.  The reason for cholesterol being such a risk factor in heart disease is based on studies that used oxidized cholesterol"
Oxidized cholesterol is the problem
Dr Diana Schwarzbein MD, an endocrinologist of 25 years standing says: "It is interesting to note that only oxidized fats and oxidized cholesterol are found in arterial plaque. Non-oxidized fats and cholesterol do not accumulate in plaque………..Oxidized fats are abundant in our modern diet. Processed vegetable oils are particularly bad. These refined oils have been stripped of the natural antioxidants that protect them from oxidation and free-radical generation."
Blame the research!
Researching with oxycholesterol is what has led to the misconception that cholesterol causes coronary heart disease.  The cholesterol scare has put the wind up the general public especially when doctors concur the threat.  This is now big business for the medical profession and of course, Big Pharma who are gaining massive profits from all the drugs produced to reduce cholesterol.  Then there are the food companies touting their margarines, vegetable oils and cholesterol lowering products.
Consider yourself hoodwinked!
I think we can all feel well and truly hoodwinked.  We have been led to believe that cholesterol is bad for your health.  Millions of patients are now on these cholesterol reducing statin drugs.  What do these drugs do?  They target a specific enzyme called HMG-CoA reductase.  This enzyme is necessary to produce cholesterol and is naturally regulated by the body using Magnesium (Mg) in conjunction with ATP (adenosine triphosphate).  Mg is necessary to produce ATP and with adequate Mg in the body, the inhibition of this enzyme takes place when necessary, stopping or reducing production in accordance with bodily needs.  If there is a deficiency of Mg, then the enzyme is not controlled and cholesterol will be increased.  So in effect, Mg is a natural statin.
With statins, however, the whole process is blocked and cholesterol is lowered.  The problem is, the enzyme HMG-CoA reductase is necessary for other bodily processes, so stopping it completely, has far reaching repercussions.  Statins are known to disturb liver function and those on the drug have to have regular check-ups to test for liver damage.  Another side effect is statin myopathy, a condition that damages muscles.  This can lead to muscle cell death called rhabdomyolysis.
Another problem is that some statins contain fluoride molecules which are toxic.  These molecules bind to Mg which will contribute to the muscle pain as Mg levels get depleted further because of the drug.  Statins also inhibit the production of Coenzyme Q10.  This is found in considerable proportions in the mitochondria and is an important fat-soluble antioxident.  Lowering both CoQ10 and Mg in the mitochondria exacerbate muscle damage (myopathy) and also produce nerve damage (neuropathy).
What does a cardiologist say?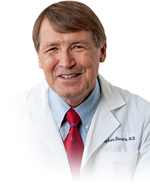 Dr Stephen Sinatra, an eminent cardiologist says: "Statin drugs can have horrific side effects. I've seen side effects across the board. I've seen weakness of the limbs, weakness of the hands. I've seen almost like a pre-Alzheimer's condition where people literally forget who they are. We call it, "total global amnesia." I've seen difficulty with vision, I've seen liver problems, I've seen kidney problems, polyneuropathy-I've seen it all. Why? Because I'm a cardiologist and I see the side effects of statins that other physicians give patients and they come to me to get them off statins and they use lifestyle changes instead."
It's money driven madness!
Cholesterol is essential for our existance.  We could not procreate without it.  Sex hormones and stress hormones are made from cholesterol.  It creates cell membranes and protects and insulates nerves.  This fatty insulation makes up the majority of our brain tissue.  It is essential for our digestive process and helps us absorb fat.  Without it our bones would turn to pulp because you would be unable to produce vitamin D from sunshine and thus could not absorb calcium.  Cholesterol is absolutely essential for life, so why do we want to get rid of it.  It's madness!
This is the science
I want to finish this article by comparing what statin drugs do versus what magnesium does, specifically in relation to controlling cholesterol:  This is a table taken from 'The Magnesium Factor' a book by Mildred S Seelig MD and Andrea Rosanoff Ph.D.
A Comparison of the Physiological Effects of Magnesium and Statin Drugs
Effect                                        Statin Drugs                                        Magnesium
Target Enzyme                        HMG-CoA reductase only                 HMG-CoA reductase and LCAT*
Effect on enzyme                   Inhibits or poisons                             Regulates and controls
Lowers 'bad' cholesterol    Yes                                                               Yes
Raises 'good' cholesterol   Sometimes                                               Yes
Prevents clot formation      Yes                                                               Yes
Reduces Inflammation        Yes                                                               Yes
Slows and prevents
atherosclerotic plaques      Yes                                                               Yes
Raises liver enzymes
above normal                          Yes                                                               No
Can cause myopathy            Yes                                                               Prevents myopathy
Many side effects                    Yes                                                              No
*LCAT (Lecithin-cholesterol acyltransferase) – an enzyme that converts LDL into HDL
which magnesium activates.
Scare tactics
The claims that natural cholesterol will kill you are scare tactics and plain bad science, or shall I say, biochemistry.  Our biochemistry and how it works is science based, it has been proven.  All that Big Pharma has proven is that there is no proof that statins do anything for cholesterol, other than fill their coffers and give you side effects.
Get off your bum!
By the way, if you are consuming margarines or other products supposedly good for your health and reducing cholesterol, ditch them now!  If you want to be healthy start eating healthily.  Go for healthy fresh foods and unadulterated fats and you will be fine.  Don't eat rubbish, get off the sofa and take the dog for a walk.  Ditch the junk food, dump the sodas and give yourself a break!
Postscript
In June of 2015, the FDA confirmed that they were giving trans fats a designation of NOT "generally recognized as safe" (GRAS) and that all trans fats were to be removed from processed foods within three years ie. 2018.  You can thank Prof Kummerow for this move as he has been working tirelessly since 1957 to get the law changed regarding trans fats and oxycholesterols.  He is now 101 years old and still working!
Check your food labels
Look out for hydrogenated and partially hydrogenated oils on your food labels.  Even if it says trans fats are zero, the FDA has kept a loophole for the manufacturers by saying any amount under half a gram per serving can be classed as zero trans fats.  Here is a typical label showing what I mean.
Free Sample
Calling all those living in the UK – I am giving free samples of Mg to those who want to try it.  I'm sorry but I can only afford to do this for those in the UK.
Email me at ches@psmicrographs.co.uk with your name and address and I will forward you a sample gratis.  It will take a few days to get to you because I will use 2nd class post to reduce costs.  Here's an opportunity to test Mg for yourself.  If you suffer from any of these magnesium deficiency symptoms then this could be for you.  Ches
Spread the word!
Summary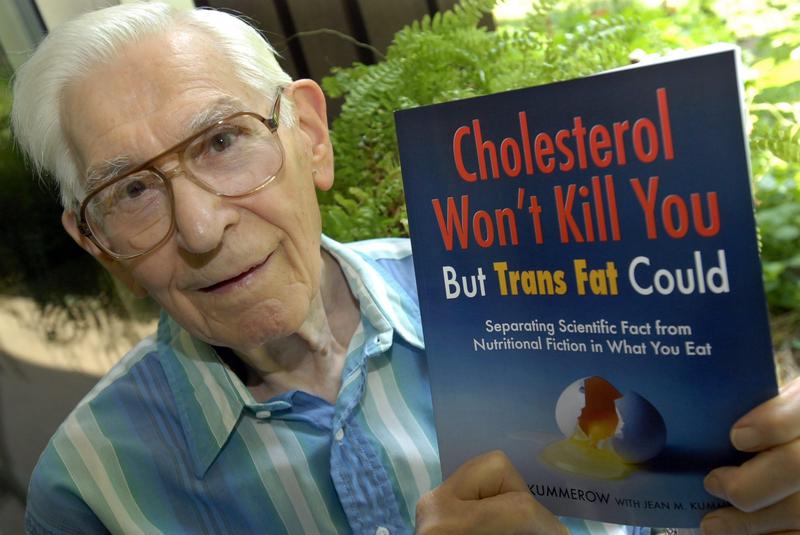 Article Name
Description
Are you worried about your cholesterol levels? What is high cholesterol? Have you had to change your diet because you've been advised to lower your high cholesterol?
Author
Publisher Name
http://magnesiumandhealth
Publisher Logo