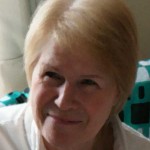 Hi everyone,  Ches here and it's great to meet you and I hope by the time you've looked around this website, you will be well on the way to having a healthier and happier life.
I want to tell you my story.  I know you want to get on but it is important for you to know that you can change your health for the better, just like I have with one mineral that is as vital to us as water!  I am a wife, mother and grandmother and although I've been in reasonable health most of my life, I have always had niggling problems which started to get worse as I got older.
Chronic Insomnia
The most distressing problem I'd had for years, was insomnia.  Ok, some may say, so what, you don't sleep too well some nights. With me though, I didn't sleep hardly at all any night. I would go to bed at about 11:00pm, absolutely worn out and by midnight, I had given up trying to sleep and I'd get up, make a hot drink (not caffeinated) and then watch TV or work on the computer. I'd be up all night, wide awake, until dawn. I would then quietly go back to bed, trying not to wake my husband and maybe sleep for an hour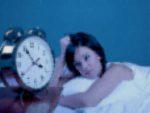 or two. When it was time to get up, I would be exhausted and certainly not ready for the day ahead.  I was irritable and bad tempered and thoroughly miserable . This went on for years.  I'd tried every home remedy I could think of but I was determined not to take drugs. Drugs would not be a cure, just a stopgap.  I wanted something that was natural.
Back spasms and depression
Meanwhile, I was also suffering with back spasms.  Anyone who suffers with muscle spasms will know how painful and debilitating it is.  If I had a bad attack, I would be incapacitated for days, sometimes crawling about on the floor because it was too painful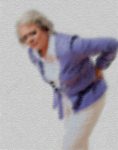 to stand up.  After a few days and many painkillers later, the pain would abate for a while, then I'd have another attack and go back to square one.  On my best days I had to be careful not to do too much which involved using my back. Gardening for more than a few minutes was a no no, too much and I'd really suffer the next day.  This along with my insomnia was making me very depressed and I was always very tearful and the most trivial problem would send me into a flood of tears. So I guess I had depression also!
Bad digestion brain fog, headaches
During this horrible period, I suffered many other ailments one of which was constipation. Now this may be funny to some people, probably those who don't suffer with it, but this affliction can be really depressing and draining.
Twitches and tics
As well as this, I suffered from spurious facial twitches or tics.  They weren't visible to others but the continuous movement around my eyes, drove me to distraction.
Sciatica
Another problem I had was sciatica.  This was on top of the muscle spasms and was sometimes so severe, my right leg would give way and I'd have to hold onto someone or something to stop me falling. One time I did actually fall in the shower. I also suffered pains in my left leg just above the ankle. I hadn't a clue what it was.
Brain Fog and Headaches
My mental acuity started to decline with brain fog, bad memory, anxiety, depression and stress.  I forgot to mention, I used to have some serious headaches, sometimes they would last for days.  All these various ailments and afflictions added up to something that was blighting my life.
Fibromyalgia?
I didn't go to the doctor, I try to avoid them after experiencing how they treated both my late Father and now my Mum. My Mum died from lack of care in hospital, but that's another story. I know now that if I had consulted a doctor, he would have diagnosed fibromyalgia, a common diagnosis for a serious magnesium deficiency.
Magnesium to the rescue
So what happened, well, one day whilst looking around the internet for a solution to my insomnia, I came across this article about Magnesium Deficiency.  It was written by a Dr Carolyn Dean.  She's a Medical Doctor as well as a Naturopathic Doctor.  Apart from other natural remedies, she's been researching and advocating Magnesium for many years and what she doesn't know about Mg is not worth knowing.  I read her article with interest and spotted a correlation between my problems and the symptoms of Magnesium Deficiency.
Research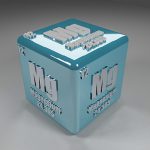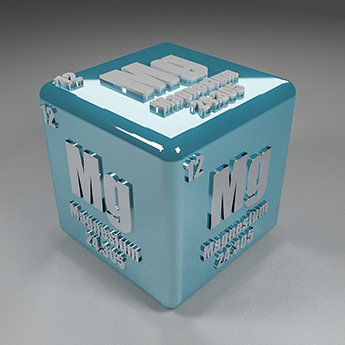 I started researching Mg and could not believe how important this magical mineral is for a healthy body and mind, not just for humans but for all animals and all plants in fact for all life!  I am now taking a Mg supplement daily and I will do so for the rest of my life.  I feel like a different person, I have NONE of the problems I had before taking this miracle mineral and my life has changed completely.  An added bonus to all my ailment disappearing is that my skin is clearer.   Another oddity is that my hair is starting to grow darker.  It used to be completely silver, which I actually liked but now there are dark hairs growing which is something I would prefer not to happen.  Even so, it does suggest that Mg reduces grey hair.  Throw away those creams and potions ladies, you don't need them for good looking skin and hair, just keep your Mg levels up!
Enjoy a healthy later life
If you want to stay healthy, even into the autumn years of your life, you can enjoy feeling fit and well with Mg. You can dramatically reduce your risk of heart attack, stroke, diabetes, hardening of the arteries, high blood pressure (hypertension) and so many more ailments and illnesses. Your chances of staying disease free as you grow older will increase substantially if you have good Mg levels in your body at all times and you will find many of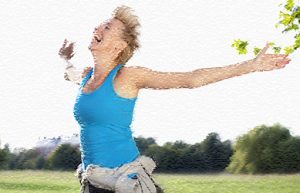 the ailments you're suffering now will abate. If your life is stressful from looking after a loved one or having problems in your life which are out of your control, Mg will keep you calm and focussed and able to cope with what life throws at you.
With me, all my stresses and ailments have not only abated, they have disappeared altogether.  I feel great and I want you to feel great too! That's why I started this webpage.
What's expected as we get older
The one thing that's expected of us as we age is that we will slow down, acquire all sorts of ailments, lose our memory, lose our mind, use a stick and become weak and feeble. How about us changing that perception. Just look at this road sign used in the UK to warn you that there are elderly people about. It's an insult!
This is more like it!
Now look at the sign that someone stuck over the old sign in Portobello Road, London, now that's more like it!! If you want to be portrayed and feel like the image on the right, check out this website, there's something here that will improve your health and quality of life.
Questions anyone?
If you have any questions about magnesium and other topics on this website, please write to me. I will do my best to answer all comments and questions.  Each article has a comments section, so don't be shy!
Spread the word!